Experience the rich, savory flavors of Mushroom Carbonara. Sautéed mushrooms, crispy pancetta, and velvety egg sauce combine for a tantalizing Italian dish. Buon appetito!
The Matcha Moscow Mule is a unique and refreshing cocktail that combines the earthiness of matcha with the zing of lime and the warming element of vodka.
Experience a taste of home with this cherished Cream of Mushroom Sauce recipe. Easy to make, it brings comfort and nostalgia to your kitchen. Bon appétit!
Escape to a tropical paradise with the Pineapple Coconut Mojito. Refreshing and vibrant, it brings together pineapple, coconut, and mint in a harmonious blend. Cheers to paradise!
Experience the fusion of tradition and innovation with the Sake Mojito. The refreshing lime and mint perfectly complement the crispness of the sake for a tantalizing and harmonious cocktail.
Side Dishes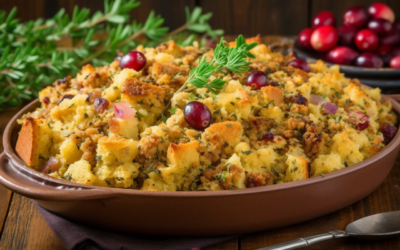 Homemade cornbread stuffing is a soulful, flavorful dish that honors family traditions and brings people together. Customize it with herbs, spices, pecans, or cranberries for added deliciousness.